Clinical Staff
Rubenia Murcia
SENIOR CLINICAL RESEARCH COORDINATOR
Rubenia has worked in clinical research for over 10 years. During that time, she has been involved in various aspects of clinical research including site operations, regulatory affairs, patient safety and data management. She has collaborated in phase I, II, III and IV studies. She strives to provide a compassionate approach with all subjects participating in clinical studies.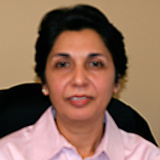 Kumud Sood, RD
RESEARCH CENTER DIETITIAN
Kumud Sood, R.D. is the research center dietitian. She has a Masters degree in Food and Nutrition, and has over 26 years of clinical experience. Kumud provides individualized counseling with the goal of making healthy lifestyle changes.